Reading Tutor Training
Earn great money from home while serving your community
Being a JoyFully Read! Tutor has AMAZING benefits/perks
Feel joy every teaching day!
Work from home
Serve your community
Purchase of JRCP Training includes every part of the JoyFully Read!™ program! (Can be resold to future students or used for personal use after training) Retail value: $754.92+tax.
No daily lesson prep work for your students (open & go!)
All training materials: DVDs, book, and exam
Membership Access to our website where we are always adding more helpful videos, materials, tips & tricks, and more!
Mentoring, training, phone calls, podcasts, and coaching.
JRCP discount code for discounts on your students' supplies (upon completion).
Choose your own hours
Get great return on your investment!
We are growing! We have JoyFully Read! Reading Tutoring Centers mostly on the west side of the United States (see the map…people in YOUR community need you!). JRCP Tutor Training is for teachers at heart who would like to use a structured, time-tested program that creates great income while having a whole lot of fun doing it. The JRCP training is a program that can inexpensively and successfully train and get results unlike other home-based business opportunities. Our solution offers professionally minded individuals the road to a successful reading business. For example, one of our Center Owners had 5 committed students by the time she finished her training, and 30 students within a year in her business, creating an extra large income per month! In the words of her children, "She shows joy and confidence in who she is and what she does, like never before!"
Our main Tutoring Center/Headquarters is located in Provo, UT. We offer tutor training for people interested in becoming a tutor. We offer private tutoring at our location, and others, with JRCP Certified/Trained Tutors in all of our Reading Tutoring Centers! Each of our tutors is trained, tested, then awarded certification in our JoyFully Read! Certification Program. At this point, they are advertised on our website as a JRCP Certified Tutor or Tutoring Business Owner (when they host more tutors than themselves) in their area. So, anytime anyone is looking for a reading tutor and brings up our website, these tutors are highlighted as JoyFully Read! Certified tutors. Once Certified to teach it, tutors use our scientifically based, time-tested, statistically proven, multi-sensory method of teaching reading. Our 16 year statistics, become yours! Our website becomes yours! Our experience becomes yours! You will be trained to run your own business/center! It is a fun, inexpensive way to be an entrepreneur running a business of doing something you love, right from your home if you choose!
Starting your own tutoring business can be daunting and overwhelming, but not with becoming a JoyFully Read!™ Center Owner! We have already helped several others open their own successful tutoring business and are excited to help you! We provide EVERYTHING you need to be outstanding in your new career, and we care deeply about your success! A JoyFully Read! Center is an amazing opportunity to earn great money, set your own hours, be at home, and serve your community. Our program will give you the results you want for your students, bringing confidence and joy to their reading.
There is no prep work, copying, cutting. We provide EVERYTHING you need to be successful in your new career, and we care deeply about your success!
Our mission is to bring JOY back into reading for everyone. Whether young, old, beginner, or experienced! This means it should always be fun for you too as the tutor. We want color, fun, laughter, and learning. We have found that this combination works like magic and we want to share it with everyone! 
Before opening your own JoyFully Read! Reading Center, the JRCP Training and Business Training must be purchased and completed. This includes reading training materials, passing our test, watching training videos, familiarizing yourself with our materials, observing some of our current tutors, as well as being observed yourself. When we feel you are ready, we will send you on your way to have your own successful tutoring career. The training is very thorough, and we offer so many resources to turn to for help and guidance. You will never feel alone. We are ALWAYS here to help and answer question.
Students and tutors meet twice a week (Mon./Wed. Or Tues./Thurs.), for 45 minutes, in tutoring sessions. Each session ends with a fun, application activity and a challenge for the daily, 5 min. exercises that the student is encouraged to work on/play at home in between sessions. JoyFully Read! tutoring sessions are fun, something students look forward to, and highly successful! Unless you are a tutor for our Provo Center, you will be trained to run your own business/center! It is a fun, inexpensive way to be an entrepreneur running a business of doing something you love, right from your home if you choose!
We would love for you to join our JoyFully Read! Team!
"
Being a Center Owner has opened up an avenue of opportunities. I've enjoyed getting acquainted with new people. It's been such a privilege to help these young people…
"
-Truly Barlow
Center Owner in Enoch, UT
Newsletter
Sign up below for our JoyFully Read! Newsletter to receive stories, research, tips, & more!
Simply fill out the form below to get into contact with us! We are happy to answer all of your questions and get you on your way to becoming a Center Owner yourself!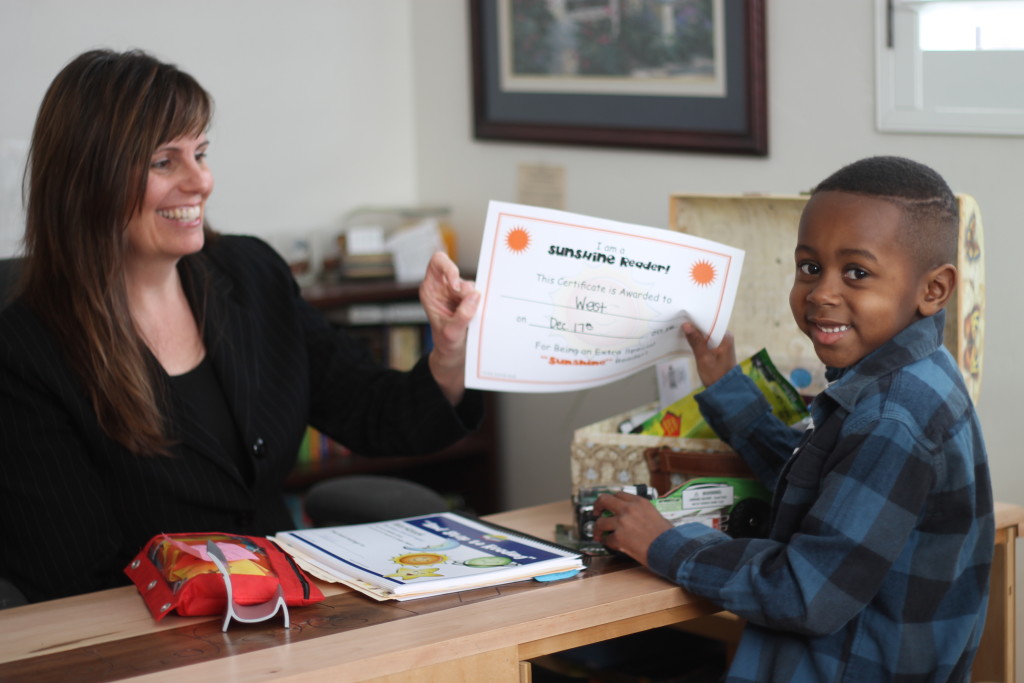 Fill out the "Get in Contact with Us" form to the right.
Upon approval, apply for the opportunity.
Register and pay – $1,999.99/ person – to receive all DVDs, JoyFully Read!™ Program pieces, training supplies, and also receive the untimed, open book, online exam.
Read the provided reading material and pass the open-book online exam.
Observe teaching.
Teach and be observed until mastered (up to 1 month after passing exam).
Receive Certification/Qualification Award!
Set up your bio, picture, and location pin for the JR website (included at no cost right now).
* Training time varies for each student as it is a self-paced process. As of now, there is a time limit of three months from the date of purchase. Most tutors complete it in as short as two weeks to one month.