Our Story
by Michelle Corbin
"I have always enjoyed writing. Growing up I wrote stories, I wrote songs, and I wrote in my journal. However, I did not read much (other than my father's old Dick and Jane or Dr. Seuss books). I had many reading assignments in school that I simply did not enjoy, which made it hard for me to read the way I wrote.

When I became a mom, I wanted my kids to not only be good at reading and writing, but I wanted them to enjoy it. At this point in my life, I recognized reading as an invaluable tool.  I didn't finish my higher degree, but because I could read well, I could be a lifelong learner. I wanted to give my children a love for reading! This legacy was something I became passionate about.
When my husband's well-paying job unexpectedly terminated, I needed to find a way to help our family earn an income. It was important to me to be there for my five children, but I struggled to find a way to work while being a stay-at-home mom. I learned of a program where I could certify to become a reading specialist. This job combined my love for learning, my love for children, my quest to find a way to enjoy reading and writing, and I could do it all at home!  It was a perfect match! And so
JoyFully Read!™
began.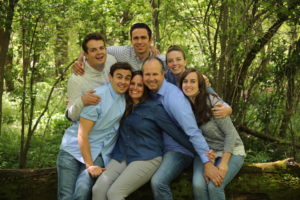 JoyFully Read!™ has allowed me to combine my passion of helping people become lifelong learners through reading and writing, and my need to be available to my children while working.

After earning my reading specialist certification, I began tutoring from my home. Though the program I used had good results, it lacked color, fun, and characters. I wanted Readers that were based on good morals and character! I wanted music because I knew the power of song in retention and attention. I wanted my students to look forward to a reading tutor day! I developed my own curriculum based on the scientific research of Diane McGuinness and her book, Why Our Children Can't Read and What We Can Do About It.  
My business grew, and there were just too many kids to fit into the hours of the day, so I started group classes for the beginning readers. One of the children that had taken my class went from not knowing any of the alphabet sounds to becoming a proficient reader who knew all of her basic alphabet sounds in 16 weeks. This drew the attention of the principal of a private school who asked to use my curriculum in their new elementary program.

I had the challenge of developing a training so that other teachers could successfully use the curriculum in the classroom. The results of the JoyFully Read!™ reading program were presented at a parents' meeting at the end of the school year. For the first time, I saw the quantified data and tangible results of my reading program. Even I was astonished!  Although I knew the program worked–I had seen the results in my private tutoring-–having data on a PowerPoint in front of me made me realize that the JoyFully Read!™ program seriously impacted the lives of many children and that it was something that should continue.

As JoyFully Read!™ grew, it became necessary to train more tutors and teachers. That was the beginning of the JoyFully Read Certification Program (JRCP).

I was also holding little free workshops for parents on how to teach your children to read. The parents were so excited and began having similar results in their homes! Eventually, we created a simple insert of training to JoyFully Read!™ for an audience near and dear to my heart: homeschooling parents who just wanted to help their children love to read and write and develop a habit of lifetime learning at home.

This is where it all began for me. I hope to leave a legacy of a mother who was determined to be home for her children while being able to supplement her husband's income, all while offering a valuable service that blesses my family and others' lives for good. What a JOY it is to hear your stories of how JoyFully Read!™ is blessing your child, student, family, and school!"